Society Café
(

Brian Vander Brug / Los Angeles Times

)
Behold the grilled vegetable flatbread at the Society Café at the Encore in Las Vegas: roasted artichokes, mushrooms, eggplant, peppers and vegan cheese. *
I totally believe in Fate when it's a fun kind of coincidence like this. I found
this article
on how awesome the vegan food is in Las Vegas. My husband and I have been planning a trip there this summer. It's been forever since we've traveled. Our main reason was our elderly dog, Sage. Neither of us could leave her for more than a few hours, much less a few days! Now that she's been gone for a year **, it seems like we might be able to actually VACATE.
Just the thought of sunshine, big drinks and food to eat, makes the rest of the winter bearable.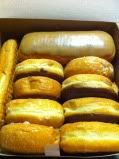 So good!
*I stole that picture. And a few words from The Las Angeles Times.
**RIP my Sue Bear!