I was just going through my pictures and found some good food from the Vertical Diner. Today Dave and I went there for biscuits and gravy and they were so good. I ordered the breaded chicken with mine, and sadly didn't get nearly as much as I used to. It was still a delicious, filling breakfast, but at first I was a little surprised. The service was awesome, as usual. And we both left, full of yummy vegan food for a reasonable price. I really love supporting the vegan establishments in the city. It makes me happy that Salt Lake is growing up. It's fun to watch. Although I have dreams of moving to Portland for the rainy weather and the mass vegan food, I don't think I would ever leave Salt Lake.
I think this is the breakfast burrito. The cheese sauce is so yummy.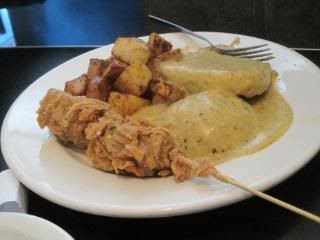 Biscuits and gravy, breaded chicken and hash browns.
Dave had the Breakfast Sandwich and I had the Reuben and a side salad. I really like their salad!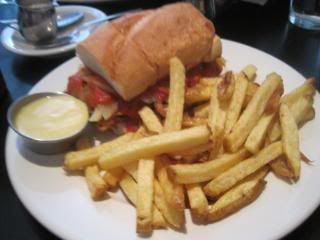 Philly Pizza Cheese Steak. You need to eat this. I went for months only ordering it. I suggest ordering it with the breaded chicken.